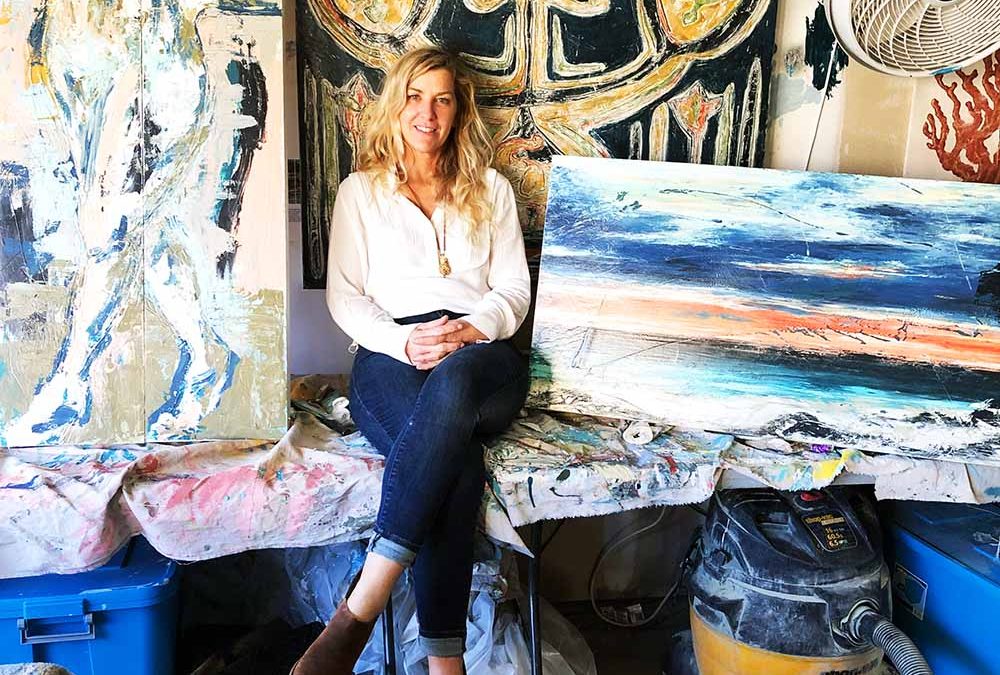 Aaron / Barefoot 30A Allison, thank you so much for taking the time to do this interview with me. I love your artwork so much and admire you as a person as well. You always have such a positive attitude and your creative spirit is contagious. You are such a loved member of our community and 30A is so blessed to have you here. How did you get into art and working with galleries?
Allison Yeah you bet. I'm so happy to do this interview with you. Thank you. I started working as a professional artist back in 2000 when I moved from Chicago back to my hometown in southern Illinois. I started painting murals and that business grew and grew. I had that business 7 years and realized there were aspects of it that I loved and aspects that I didn't. So… I needed a change and moved here in 2007. I took my favorite parts of that business, like working with plaster….making stains and applied that to painting what I wanted to paint. I wanted to paint local landscapes in a kind of aged technique that was not common here at that time. I started doing that in 2007 and that took off. I guess I filled a niche and it worked out. In 2011 I was recognized as South Walton's Artist of the Year. The next I got voted gallery of the year. I've been immersing myself in the art community here year after year, and getting more involved. I love it.
Aaron / Barefoot 30A That is really cool. I think that is where I first met you was when you were painting at a space in Rosemary Beach. I remember how you were hanging the art from the ceiling. I had never seen that and thought it was really cool.
Allison Yeah, yeah!
Aaron / Barefoot 30A What do you enjoy most about working as an artist?
Allison On the surface, the best part of this job is that I get to do what I love every day. I get to set my own hours and connect with people in a way that most people don't get to. I really enjoy interior design as well. It's really fun to see their style and get an opportunity to enhance that with their style. That is really fun and rewarding. Below the surface the best part is meeting other artists and being able to help artists who are where I was 20 years ago. The knowledge that I have gained from working as an artist has been amazing and I really love sharing that with others.
Aaron / Barefoot 30A You are in a unique position to be able to encourage others.
Allison Oh yes for sure. I love to do it. I wish I got paid to help other people. "laughs"
Aaron / Barefoot 30A If someone is looking for art in our area, what is it about your work that would make it a great choice for anyone?
Allison One of the best compliments I get is the look on people's face when they see something they have never seen before. All my work is one of a kind. You aren't going to find anything else like this out there. I want people to feel good when they see the art. I want them to connect with it and find something special to take home with them. It doesn't matter how big the work is… or what is costs. I hope they can take something small and come back again someday for a big piece.
Aaron / Barefoot 30A That is great that you offer different price points so that everyone can find something they enjoy.
Allison Yeah, yeah thats right.
Aaron / Barefoot 30A What would you tell someone who is looking to buy art for the first time?
Allison I would tell them to get the 30A Art Map. You can find them at any gallery or at artistsof30a.com. Get a map and hit all the galleries. Check them out. There is more along 30A than I even know about. Go in there and see how your body feels. Don't buy a piece because your neighbor has it or because someone else might think it's cool. Listen to your body and how it makes you feel. Go ahead and go with your feeling and get a work of art. Sometimes if you don't go with that feeling and you go home….. you might call back and that one of a kind piece is gone. You gotta go with what you feel. You can tell when you love a piece. Your body knows when it's found something you love.
Aaron / Barefoot 30A It's cool how everyone responds to different styles and can enjoy that discovery. There's so many different styles out there.
Allison Yeah totally! I was in target the other day and saw a painting I liked "laughs". It doesn't matter if your body likes it, just go with it if it speaks to you.
Aaron / Barefoot 30A For anyone visiting the 30A area, after they see your artwork, what would you recommend they do next?
Allison Go to the beach of course, but also go on a bike ride. Enjoy the natural outdoor activities. You can take your bike and ride through these beautiful neighborhoods like watercolor. Go on a hike. Grayton Beach State park has these awesome walking trails.
Aaron / Barefoot 30A Allison, thank you so much for your time today and letting me invade your studio. It's really exciting to be here and to see where you create. Thanks again!
Note: Read more about Allison and her artwork at www.allisonwickey.com
Interview by Aaron Sutton, local artist & graphic designer